DermoCare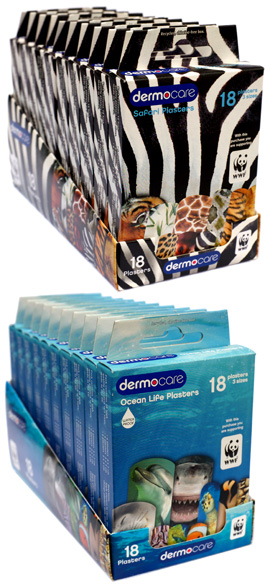 We are very proud to have teamed up with WWF to bring you the fabulous new DermoCare WWF Safari Plasters.
About WWF

WWF (World Wide Fund for Nature) is building a future in which humans live in harmony with nature. This is in the interest of nature, but also in the interests of mankind. WWF works in over 90 countries with projects supporting animals, plants, forests, climate, water, oceans and coasts.
By purchasing our fun WWF Safari plasters, you are supporting the projects of WWF. For more information about WWF and the invaluable work it does, please visit www.wwf.org.uk.
You can find our plasters now in independent pharmacies or online at the DermoCare website.
DermoCare WWF plasters are produced in the EU to the highest environmental standards, using recycled & recyclable materials. Not only do the plasters look wonderful (whatever your age!) they are of the highest quality and will not fall off or leave sticky residues!